STITCH BOX - The original sewing subscription lucky dip box !
A box full of themed sewing goodies delivered to your door every month for just 19.99 !
Our themed monthly boxes include :
A themed Sewing pattern or kit ,
Quilt Block Pattern of the Month ,
English paper piecing pattern of the month ,
An exclusive themed embroidery pattern ,
Our Fabric & Thread of the month
PLUS
Haberdashery surprises and lot's of cool and modern sewing gifts !

Perfect for stitchers who can't make it to classes or who would like some stitching inspiration !
Every month we have a new and exciting secret theme !

Past boxes include : Sunshine , Vintage Christmas , Rainbow Bright , Valentines , Teatime treats , Hygge and Easter bunny.
When subscribing your boxes will be dispatched on the 1st working day of the next month - i.e. the next box ! regardless of when you join.
You will only receive FUTURE BOXES. You CANNOT receive BACKDATED BOXES.
PRICES ARE AS FOLLOWS :
SINGLE BOX £19.99 (Only available as specialist or introductory box - )
THREE MONTHLY SUBSCRIPTION : £52.00 save £££ !
PLUS subscribers get an extra FREE gift every month !
All boxes are sent via registered post .
POSTAGE IS FREE !*
*Uk only - extra postage may apply to Europe & America.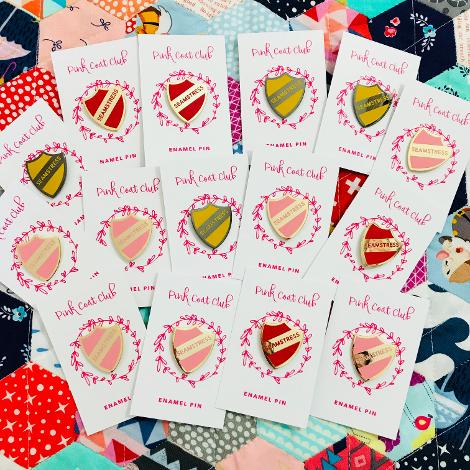 SPECIAL OFFER ! Buy a 3 month Subscription and get a FREE Pink Coat Club Enamel Seamstress pin !
AVAILABLE FOR JUNE,JULY & AUGUST SUBSCRIPTIONS
*Plus subscribers get a discount on their boxes and an extra gift every month ! *
OFFER ENDS 29TH MAY - LIMITED AMOUNT AVAILABLE.
AND TO CELEBRATE WE ARE RELEASING A SMALL AMOUNT OF LUXURY DOUBLE SIZE LUCKY DIP STITCH BOXES !
Each box contains some of our favourite sewing patterns plus haberdashery , kits and fun surprises !
**This is a LUXURY DOUBLE SIZE BOX that will ship on the 1st May***
*CHILDRENS VERSIONS ALSO AVAILABLE
SUITABLE FOR BOYS & GIRLS AGE 4+ *
Available to reserve online now !