STUDENT & COURSES AREA
Auto emails with what to bring will be sent upon checkout - Please keep an eye out !
On this page you will also find photos of what to bring to each class , simply click on them to see them in full.
We hope this will make budgeting & buying fabrics much easier for all students.
We have changed this page a little to make everything simpler and clearer and larger as you asked :)
I have also now provided website links to show you the items in case you are unsure of what they look like. Simply CLICK on the highlighted words to visit the cheapest/ most reliable source of where to buy or to see what you are looking for.

Beginners crash course one off workshop - Please bring your sewing machine with pedal/plug plus a basic sewing kit including :
Scissors , pencil , pins , spare machine needles & measuring tape plus greaseproof paper. Fabrics and threads are provided.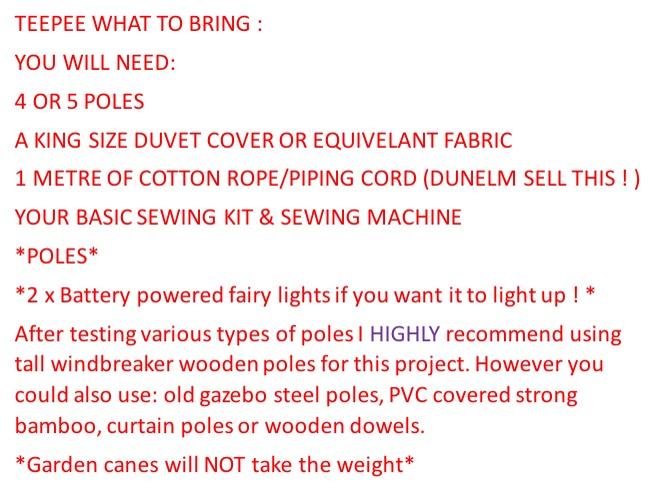 MEMORY QUILTING WORKSHOP.
You will need your sewing machine & basic kit plus :
A rotary cutter , quilting ruler & self healing mat.
1 metre of iron on interfacing MED WEIGHT.
A range of clothing ( T shirts , babygrows the list is endless ) OR old blankets etc.
A gold top ballpoint needle 90/14.
OILCLOTH BAG WORKSHOP.
You will need your sewing machine and basic kit plus
ONE METRE OF OILCLOTH OR FABRIC BACKED PVC ( plastic will NOT WORK)
A leather needle & some wonder clips.
You will need two metres of fabric.
Suggested fabrics include :
lightweight cotton , voile , linen , poplin , viscose , chiffon .
Your sewing machine & basic kit PLUS a ballpoint needle or lightweight needle such as a 70 or 75.
SEWING MACHINE MAINTENANCE WORKSHOP
You will need :
YOUR SEWING MACHINE
TECHNIQUES CHRISTMAS COURSE.
You will need your sewing machine and basic kit plus :
WEEK 1 & 2
9 METRES OF 25mm WIDE BIAS TAPE
1 FAT QUARTER FOR TOP BODICE
1 METRE FOR LAYERS 1 & 3
1 METRE FOR LAYER 2
1 METRE FOR THE TIES.
WEEK 3 : 5 ASSORTED FAT QUARTERS. A range of buttons and a polystyrene ring.
WEEK 4 : FOUR FAT QUARTERS , THREE 20 INCH ZIPS.
WEEK 5 : You'll need:
60 cm of string/thread of any kind
Thread:
Red, White, Green, Brown, Blue, Neutral/Cream
Felt:
1/2 metre 5 mm thick stiff black felt
1/2 metre dark green felt
2 sheets of White
2 sheets of Red
2 sheets of Fawn
1 Sheet of Dark Brown
1 Sheet of Blue
1 Sheet of Yellow
35 Miscellaneous red buttons big/small
1.5 metres of 3 mm ribbon red or white
CHRISTMAS PARTY - - - - - - - ALL CRAFT AND SEWING ITEMS ARE PROVIDED. IT IS A MYSTERY FUN EVENING !!